History of the Ten Sleep Cemetery
The Ten Sleep Cemetery probably had its beginnings as a boot hill.
Boothill: a burial space, especially in western United States, is mainly applicable to the violent deaths of gunfighters or others who may have 'died with their boots on'.    It appears that M.E. Casshire was the first to be buried on the hill in 1890 and the strange thing about this burial and the original cemetery is that no other burials were made there until 1901.  Ten Sleep was then in Big Horn County and various small cemeteries may have been used such as Hyattville, Bonanza and Basin.
Boot Hill Becomes the Ten Sleep Cemetery: David R and Adele Moses – donated land for the cemetery proper in 1900.    It is safe to say that there had been no burials in the newly donated cemetery site before David Moses himself was killed and laid to rest inside the perimeters of the land he had given to the community.  A First Addition to the cemetery land was in (1978-80) by Fae Moses Broadstreet.  The Cemetery Board bought this addition from her.   The Second Addition was a sale from Don Decker.
Veterans of the Civil War: Oscar Austin, Henry Bell and Tuck Keaton  are buried in the Ten Sleep Cemetery (see Vanguards of the Valley, 1987, by Faye V. Bell, p. 105.)   Tuck, by his own admission , was a member of member of William Quantrill's guerilla band during the war.
WWI Veterans:—Marion Ainsworth,  Hugh Boyd,  Orin Cunningham, George Ferguson, Homer Dent,  Earl Glanville, Bruce Lynch,  Boyd C. Mills,  Arthur R. Moses, George Dewey Moses, Mabry Moses, Millard F. Moses, Emil Pascal, William Prevo, Homer G Renner and  Arnold Waln are buried there.  Innumerable men of WW II are buried in this cemetery.  The small community saw 7 men die in WW II, one (Clinton McLaughlin) in the Korean conflict and one (Sammy Dellos) in the Vietnam War.
Annual Memorial Day Services: On Memorial Day and occasionally on Veteran's Day, the American Legion, the Floyd Minch Post 44, and the Veterans of Foreign Wars (VFW) have, and still do, commemorate those who served in the military.  Veterans from Worland and Ten Sleep combine to do rites such as a single bugle sounding over the cemetery and echoing over the valley.   "Taps" is played by a former army bugler and a certain reading is done to commemorate their wartime service. This ceremony includes the 'firing' of six rifles over a veteran's grave.  In addition, for many years, Fae Moses Broadstreet recited the poem, "In Flanders Fields" written by Lt. Col.  J. McCrae after WW I. This tradition continues to the present day.   When veterans of the wars were, and are, buried, there is another singular rite, as the one described, to remember their selfless service.  It is planned and carried out by the same two organizations.
Monument Honoring WWII Veterans: The monument was purchased, inscribed and mounted sometime after the end of WW II.  This was a Girl Scout endeavor under Fae Moses's leadership.  The list of men lost in WW II is as follows:  James Morgaridge (on ship Arizona Pearl Harbor 1941); Lyle Williams, (flying from England) 1942; Louis Rosetti, 1943; Marvin Waln, (stateside crash) (1944); Lester Daugherty (U.S. Navy Pacific theatre, 1944); P. Merton LaRose (Pacific theatre) 1944; Charles Rhodes (Stateside airplane disaster 1944; Parker Boyle (Normandy) 1944.  (See view of WW II monument, Registry page).
A Childhood Memory:  In 1945 Fae and Millard Moses (my parents)  had taken on a project to make markers for unmarked graves of  persons interred in the Ten Sleep cemetery.  Millard cut the 12×12 inch squares of tin, Fae penciled in the name, then used a nail and hammer to etch the name in, painted the tins white and the names in black.  She was working on James Allen when Millard told her that was 'Fatty Allen'.  Since then, the markers were replaced with smaller bronze and steel furnished by Veile Mortuary of Worland.
Note: The above history of the Ten Sleep Cemetery was provided by Faye V. Moses Bell who was born and raised in  Ten Sleep.  She is  an author and historian about the Ten Sleep area. 
First Washakie County Church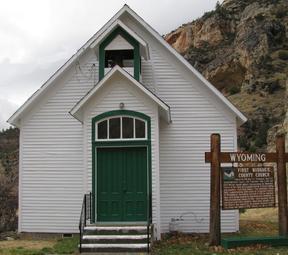 A Church is built on Cemetery Grounds: On March 14, 1901, Rev C.C. Thompson, Rev E.E. Tarbill, Mortimer Lewis, J.W. Carpenter, Kate Lynch and Mark Warner signed papers incorporating the Methodist Church of Ten Sleep and accepted land for a church building and cemetery from David Moses.  
The community raised $600, supplementing the $300 given by the Methodist Church Extension Society of Philadelphia.  The building was started in 1901 by volunteer labor with lumber donated by Milo Burke, was completed in 1904 and dedicated on January 8, 1905.  Each assisting family was given a lot in the cemetery, where the pioneers rest. 
Church Building Relocated: In 1925, the Church was moved from the cemetery to the corner of Cottonwood Street and Highway 16 in Ten Sleep.  The Annex was added in 1952. 
In 1975, the building was moved once again to its present location at the Circle-J Methodist youth camp on Highway 16. 
The present day Ten Sleep Methodist Church is across the street from the Cemetery.